Oneida Sponsored
30-Page Study Yields Scientific Evidence
Showing "Indian" mascots Harm Native Americans
06/04/14 - Survey Shows 67 Percent of Native Americans Say 'Redskins' Is Offensive Washington, D.C./National
The survey's findings from The Center for Indigenous Peoples Studies at California State University, San Bernardino

Oct. 2013 Washington, D.C. Poll Results
* 59% Agreed that if referred to as a "redsk*n" a Native American person has the right to feel offended.
* 55% Stated that as a fan it would not make any difference to them if the Washington NFL team changed its name.
* 58% Stated they would feel comfortable if the Washington NFL team changed its name.

---

In a 2001 survey by Indian Country Today, 81 percent of respondents indicated use of American Indian names, symbols and mascots are predominantly offensive and deeply disparaging to Native Americans.

"28 schools in 18 states were once the Redskins, but now currently use another mascot. Capital News Service fact‒checked data and found that the Washington Redskins had overstated the number of schools using the name."
Dear Dan Snyder, Bruce Allen, Roger Goodell, NFL, MLB, and all relevant others large and small:
So-called "good" intentions or "context" do not matter one bit when the final outcomes arising from the institutionalized, race-related practices you clearly endorse and promote have negative impacts on real, living American Indian people, especially children, adolescents and teens.
It is one thing to claim innocent ignorance concerning such things. It is quite another to continue the practices after having been told for years by many highly respected American Indian, civil rights, religious, and education organizations about the problems such actions, and by extension, you now personally cause. The damaging practices have therefore become willful on your part and no amount of denials, public relations gimmicks, cherry picking, high-priced lawyers or slick rationalizations can change that. Such tangible actions speak much louder than hollow, even if genuinely well-meaning words about "tradition" and "showing respect." How can you be "honoring" someone when they are telling you that what you're doing is hurtful to them?
The long overdue time has come to do the right and honorable thing. Stop stereotyping, dehumanizing, and exploiting American Indian peoples for your sports entertainment, self-inflation, and financial gain. Stop bringing shame on yourselves, your leagues, teams, schools, communities, and our nation. The embarrassment and humiliation you cause yourselves will only increase and get worse the longer you delay. Time is not your ally but rather something that works against you.
Get on the right side of history. Embrace progress. Promote justice and unity. American Indian peoples past and present are not mascots for big business or fun and games. Retire your outdated, harmful, race-related practices now!
>>> NEWS <<<
NFL team stripped of trademarks for 'disparaging' name

01/21/15 - Redskins nickname is debated in Lancaster New York
01/18/15 - Civil rights group closely allied with the NFL calls for the Redskins to change its name Washington, D.C./National
01/15/15 - North Haven Residents Clash Over Fate of Mascot Connecticut
01/14/15 - A Change Will Come Washington, D.C./National
01/09/15 - Justice Department intervenes in Redskins trademark protection lawsuit Washington, D.C./National
12/30/14 - "Redskins" Mentions Down 27% On NFL Game Broadcasts In 2014 Washington, D.C./National
12/29/14 - 'Redskins' school mascots would be phased out under bill California
12/28/14 - At FedEx Field, Redskins name protesters exchange sharp words with fans Maryland/Washington, D.C./National
12/28/14 - 'No honor in racist names': Redskins stadium flooded with protests Maryland/Washington, D.C./National
12/21/14 - Couch slouch: Dan Snyder's steady stream of failure Washington, D.C./National
12/16/14 - Dave Letterman weighs in on Washington, DC, NFL team name. Calls them "the Spuds." Washington, D.C./National
12/11/14 - Change the Mascot Calls on Commissioner Roger Goodell to Adopt Proactive Stance on Racism By Implementing an NFL Owners Code of Conduct Washington, D.C./National
12/10/14 - Native Americans Calling on Arizona Cardinals to Make Policy Against Headdresses, Redface Arizona/Washington, D.C./National
12/10/14 - High school students walk out over 'Redskins' name change Oklahoma
12/08/14 - School board unanimously votes to dismiss Redskins mascot Oklahoma
12/01/14 - Snyder and His GM Try to Buy Native American Approval—No Go Washington, D.C./National
From Nonprofit Quarterly
11/30/14 - NFL fans, protesters come face-to-face outside Lucas Oil Stadium Indiana/Washington, D.C./National
11/23/14 - Levi's Stadium protesters urge Washington Redskins to change name California/Washington, D.C./National
11/20/14 - Poll: 83% would not call Native American a 'redskin' Washington, D.C./National
11/17/14 - Change the Name protest planned for NFL 49ers game against Washington California/Washington, D.C./National
11/17/14 - Why Va. tribes have stayed out of Redskins name controversy Virginia/Washington, D.C./National
Fear of political backlash with negative consequences is of concern
11/17/14 - Washington Redskins News: Team Self-Destructing As RG3 & DeSean Jackson Rip Teammates Washington, D.C./National
11/15/14 - Ex-Navy SEAL who revealed he killed Osama bin Laden gives Redskins' team big pre-game pep talk Washington, D.C./National
11/15/14 - NFL Flagged With Another Challenge To Tax-Exempt Status Because Of Redskins Washington, D.C./National
11/09/14 - When will NFL take a stand on Redskins nickname? Washington, D.C./National
11/04/14 - Toxic Atmosphere Surrounding Redskins Is Turning the Franchise into a Joke Washington, D.C./National
"The Redskins resemble Snyder. They've become smart alecks with an overly defiant approach to the media and an obnoxious approach to doing business."
11/03/14 - Phil Jackson tweets out support for Redskins protestors in Minnesota Washington, D.C./National
11/03/14 - Washington Redskins Suing Native Americans Who Won Trademark Lawsuit Against Team's Name Washington, D.C./National
11/03/14 - Redskins are less like a sport, more like a circus Washington, D.C./National
11/03/14 - Redskins crash into controversy once again Washington, D.C./National
11/03/14 - Change The Name: Dan Snyder Has Moral Obligation To Switch Redskins' Mascot Washington, D.C./National
11/02/14 - Washington Redskins controversy: Protesters ramp up pressure at Vikings game Minnesota/Washington, D.C./National
11/02/14 - In Minnesota, thousands of Native Americans protest Redskins' name Minnesota/Washington, D.C./National
11/02/14 - Nickname protesters tell NFL: 'We are not mascots' Minnesota/Washington, D.C./National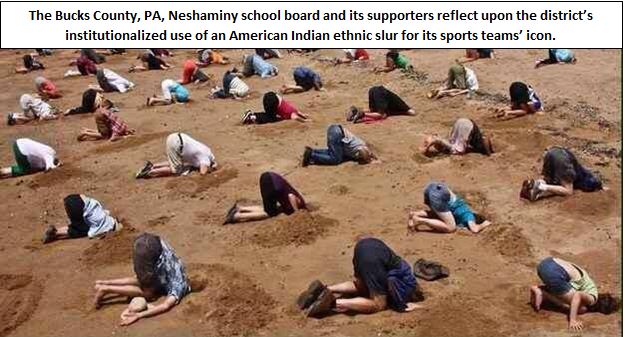 | | |
| --- | --- |
| | |
| Cleveland, Ohio April 4, 2014 | Nationally syndicated cartoon 2002 |