>>> Change the Mascot <<<

The Spanish Fork Press, July 22, 1909
"For many years there had been suspended from a smoke-stained beam...a trophy of the early days he had spent on the shore of the lake. It was an Indian's scalp."

"'You ask me why I keep that thing in the house? When I first came here...I hadn't but one white man for a neighbor and he lived two miles away...But I had plenty of another kind. There were wild beasts and savages on all sides, and there were times when they both gave me lots of trouble. With the beasts I could get along pretty well...But with the redskins it was different. It wasn't no use to try and thin them out, although there was times when I had to try my hand at it...You never could tell for a certainty when they were friendly to you or when they were waiting for a good chance to take your scalp....The redskin looked as ugly as p'izen. "'White man let it alone or Injun have his scalp' he cried, as he drew his knife." 'You'll have to take it first, you thieving redskin', said I." From the Library of Congress - The Spanish Fork Press, July 22, 1909

This 1909 story from Utah illustrates how the dehumanizing ethnic slur exploited by the Washington, D.C., NFL team was used in popular culture, the legacy of which continues to this day. Besides being a form of symbolic slavery that allows users to define, exploit, and manipulate concepts about both historic and living Native Peoples, the institutionalized use of stereotypical "Indian" sports team tokens may also be thought to serve as symbolic war trophies.

Goto News Headlines
Complete Text United States Commission on Civil Rights Position Statement on the Use of Native American Images and Nicknames as Sports Symbols
Summary of the American Psychological Association Resolution Recommending Retirement of American Indian Mascots

National Congress of American Indians Position Statement - "Ending the Legacy of Racism in Sports & the Era of Harmful 'Indian' Sports Mascots

The NCAI is the largest, oldest, and most representative of all American Indian advocacy organizations
United South and Eastern Tribes, Inc. (USET) resolution calling on the National Football League to end the use of the Washington, D.C. racially offensive slur team name. USET

Inter-Tribal mascot resolution by the Seminole, Cherokee, Choctaw, Chickasaw, and Muskogee Nations "representing over 400,000 people throughout the United States"

Resolution by the American Counseling Association calling for the elimination of stereotypic American Indian imagery
Council of the American Sociological Association Statement on Discontinuing the Use of Native American Nicknames, Logos and Mascots in Sport
National Indian Education Association resolution calling "for the immediate elimination of race-based Indian logos, mascots, and names from educational institutions throughout the Nation."

Study: The Psychological Consequences of American Indian Mascots

World Wide Web Exclusive!!
Of Polls and Race Prejudice: Sports Illustrated "Errant 'Indian Wars'" also see
2004 Annenberg Survey Designers Acknowledge Invalid Results
and
11 Reasons to Ignore the old 2004 Annenberg Survey
About the Washington Football Team's Offensive Name
"There is today no single word more offensive to Indian people then the term "redskins," a racial epithet..."
Vine Deloria Jr.

"Offensive Slang: Used as a disparaging term for a Native American"

"dated: offensive an American Indian"

Slang: "Often Disparaging and Offensive"

Oxford Dictionaries

Dictionary.com

"

An American Indian: now considered by many to be an offensive term"

"Offensive Slang: "Used as a disparaging term for a Native American"

"usually offensive"
Oneida Sponsored
30-Page Study Yields Scientific Evidence
Showing "Indian" mascots Harm Native Americans
06/04/14 - Survey Shows 67 Percent of Native Americans Say 'Redskins' Is Offensive Washington, D.C./National
The survey's findings from The Center for Indigenous Peoples Studies at California State University, San Bernardino

Oct. 2013 Washington, D.C. Poll Results
* 59% Agreed that if referred to as a "redsk*n" a Native American person has the right to feel offended.
* 55% Stated that as a fan it would not make any difference to them if the Washington NFL team changed its name.
* 58% Stated they would feel comfortable if the Washington NFL team changed its name.

---

In a 2001 survey by Indian Country Today, 81 percent of respondents indicated use of American Indian names, symbols and mascots are predominantly offensive and deeply disparaging to Native Americans.

"28 schools in 18 states were once the Redskins, but now currently use another mascot. Capital News Service fact‒checked data and found that the Washington Redskins had overstated the number of schools using the name."
Dear Dan Snyder, Bruce Allen, Roger Goodell, NFL, MLB, and all relevant others large and small:
So-called "good" intentions or "context" do not matter one bit when the final outcomes arising from the institutionalized, race-related practices you clearly endorse and promote have negative impacts on real, living American Indian people, especially children, adolescents and teens.
It is one thing to claim innocent ignorance concerning such things. It is quite another to continue the practices after having been told for years by many highly respected American Indian, civil rights, religious, and education organizations about the problems such actions, and by extension, you now personally cause. The damaging practices have therefore become willful on your part and no amount of denials, public relations gimmicks, cherry picking, high-priced lawyers or slick rationalizations can change that. Such tangible actions speak much louder than hollow, even if genuinely well-meaning words about "tradition" and "showing respect." How can you be "honoring" someone when they are telling you that what you're doing is hurtful to them?
The long overdue time has come to do the right and honorable thing. Stop stereotyping, dehumanizing, and exploiting American Indian peoples for your sports entertainment, self-inflation, and financial gain. Stop bringing shame on yourselves, your leagues, teams, schools, communities, and our nation. The embarrassment and humiliation you cause yourselves will only increase and get worse the longer you delay. Time is not your ally but rather something that works against you.
Get on the right side of history. Embrace progress. Promote justice and unity. American Indian peoples past and present are not mascots for big business or fun and games. Retire your outdated, harmful, race-related practices now!
National Congress of American Indians and Change the Mascot Respond to Disappointing Supreme Court Ruling Upholding Derogatory Trademark
An Open Letter to "The Slants:" Reclaiming racist stereotypes for yourself isn't political or edgy when it harms the very people to whom you owe your basic political rights.

University of Kansas - Research shows prejudice, not principle, often underpins 'free-speech defense' of racist language

1/05/18 - Time for change? Schools wrestle with Native American nicknames Ohio

12/12/17 - Native activists punk Washington, DC, NFL team with hoax websites, social media announcing new team name
Washington, DC/National

11/23/17 - Senior ESPN writer asks 'How have we not progressed past these mascots?' Cleveland, Ohio/Washington, DC/National

11/21/17 - Native American leaders say the Washington, DC, NFL team is using Thanksgiving to promote its racial slur name Washington, DC/National

11/12/17 - Indian mascot still in play at Skowhegan schools Maine

11/10/17 - Michigan introduces state bill to ban using derogatory terms as mascots Michigan

11/10/17 - Editorial: Keller, change that logo. Then let's talk Texas

11/10/17 - Mayor Don Iveson urges Edmonton Eskimos to listen to calls to change name Edmonton, Canada

11/08/17 - No More Aztec Warrior? SDSU University Senate Votes to Retire Mascot California

11/08/17 - UI student government OKs resolution calling for mascot search Illinois

11/08/17 - Native American group wants Keller High to drop Indians as its mascot Texas

11/07/17 - Editorial: The wrong way to 'honor' Native Americans Maine

11/07/17 - Editorial: The only right answer in mascot debate is to stop using Native American logos and names Maine

11/07/17 - Editorial: Caricatures of tribes wield tremendous power to hurt Maine

11/06/17 - Skowhegan Area Chamber of Commerce apologizes for "Hunt for the Indian" promotion Maine

11/02/17 - Wells-Ogunquit school panel to begin review of a tradition: Warriors school mascot Maine

10/28/17 - After Yuli Gurriel's suspension, Chief Wahoo should be next Cleveland, Ohio/National

10/27/17 - UI students protest Chief Illiniwek at Homecoming Parade Illinois

10/26/17 - Illinois Student Government boycotts Homecoming Parade over Chief Illinois

10/20/17 - At Monday's Eagles game, demanding an end to use of '

Redskins

' Philadelphia, PA/Washington, DC/National

10/19/17 - Board to review Wells mascot and logo in response to complaints that Native Americans were mocked Maine

10/18/17 - Winoma State University addresses images of Native Americans Minnesota

10/18/17 - Native American Parent Says Chants, War Paint At Maine High School Game Were Racist Maine

10/16/17 - Drums, whoops and war paint: Team spirit, or racial mockery? Maine

10/13/17 - Perspective: When racism enters realm of South Dakota sports South Dakota

10/12/17 - Sturgis Homecoming Cancelled Amid Racist Photo Investigation South Dakota

10/12/17 - Sturgis high school forfeits football game after racist posts South Dakota

10/12/17 - Redface will no longer be part of annual Wellsville 'Sham Battle,' committee decides Utah

10/09/17 - Columbus Day? In More Than 50 Cities, It's Indigenous Peoples Day. National

10/08/17 - Here Are The Cities That Celebrate Indigenous Peoples' Day Instead of Columbus Day National

10/05/17 - DC Council member says 'Columbus Day' needs to go Washington, DC/National

09/28/17 - Decision to keep Indian as SM North mascot frustrates local members of Native American tribes Kansas

09/27/17 - The Washington Football Team Needs To Do More Than Take A Knee Washington, DC/National

09/26/17 - American Indian Smithsonian Director calls it 'aggravating' the

Redskins

owner positions himself as a social justice advocate Washington, DC/National

09/23/17 - Push is on to remove "

Redskins

" as sport team mascot name Michigan

09/22/17 - Parade float reaps negative feedback Oklahoma

09/22/17 - Indian mascot plagues Cleveland baseball team Cleveland, Ohio/National

09/22/17 - The Rock at Michigan State University repainted to draw attention to offensive mascot names Michigan

09/20/17 - Student campaigns to keep Raiders name, dump Native American symbols New Jersey

09/19/17 - Portland adopts 'Indigenous Peoples' Day' Maine

9/14/17 - Fans drape 'Racism is as American as baseball' sign over Green Monster Massachusetts

09/12/17 - Statue of Christopher Columbus in Central Park vandalized New York

09/11/17 - Tribe Calls on Utah City to End Annual Battle Reenactment Utah

09/08/17 - Oak Park approves Indigenous Peoples Day Illinois

09/08/17 - Ithaca passes resolution for Indigenous Peoples' Day New York

09/07/17 - Hockey team retires its stereotypic "Chief" mascot after 20 years British Columbia, Canada

09/07//17 - Native American groups call Wellsville Sham Battle an 'ignorant', 'racist portrayal' Utah

09/05/17 - Petition to change 'Warrior' mascot South Carolina

09/04/17 - Mascot debate heats up at a Wentzville High School Missouri

09/02/17 - School bans "Indian" headdresses from games but allows "Tribe" cheering section and "

Redskins

" gear Maryland

09/01/17 - Gov. Scott To Proclaim Oct. 9 As Indigenous Peoples' Day This Year Vermont

For many more news articles visit the Archives Section.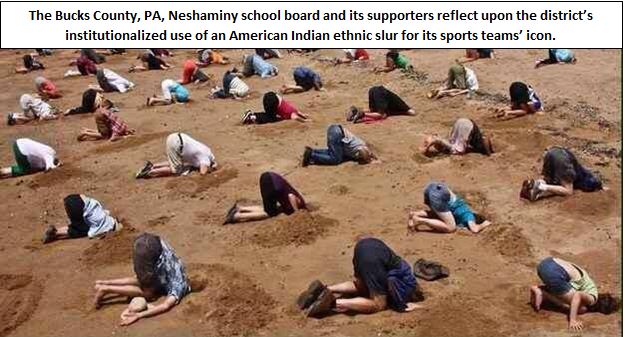 | | |
| --- | --- |
| | |
| Cleveland, Ohio April 4, 2014 | Nationally syndicated cartoon 2002 |

"...[M]ascot came into English as a borrowing of the French word mascotte, meaning 'mascot, charm.' The English word is first recorded in 1881 shortly after the French word, itself first recorded in 1867, was popularized by the opera La Mascotte, performed in December 1880. The French word in turn came from the Modern Provençal word mascoto, 'piece of witchcraft, charm, amulet,' a feminine diminutive of masco, 'witch.' This word can probably be traced back to Late Latin masca, 'witch, specter.' ...."
The American Heritage Dictionary of the English Language, Third Edition copyright 1992

---
Pulp fiction novel cover
Circa 1908
"I am not a sports team mascot. With all due respect to the teams who want to honor me by having a Native American mascot, it's outdated. It's the wrong way."
Billy Mills, Oglala Lakota
U.S. gold-medal winner in the 10,000 meters at the 1964 Olympics and inspirational spokesman (2005)


"We simply chose an Indian as the emblem. We could have just as easily chosen any uncivilized animal."
Eighth Grade student writing about his school's mascot (1997)

"We don't view it as looking down on the race...We're not trying to make light of anyone or certainly not ridiculing anyone."
Jim Arganbright
Athletic director at Coshocton H.S., Coshocton, Ohio (2003) which uses an "Indian head" doormat to compliment its ethnic slur nickname.
In a survey by Indian Country Today, 81 percent of respondents indicated use of American Indian names, symbols and mascots are predominantly offensive and deeply disparaging to Native Americans.
Pulp fiction novel cover - Circa 1908

"Cowboys finish off Redskins"
Headline from a 1998
Washington Post sports article
Pulp fiction novel cover
Circa 1908
"The ridicule, mockery and utter racism Native Americans are subject to because of the use of Indian mascots are intolerable."
Tex Hall, President (2003-2005)
National Congress of American Indians

"The high school's mascot is a student dressed in a buckskin outfit who wears a mask with a big nose, large lips, large eyes, big cheeks and long, black hair." "If we thought it was offensive, we wouldn't do it."
Sam Cook, Principal
Watkins Memorial H.S.
Pataskala, Ohio (2003)

"People have a tendency to try to make us different. We're not. We're just like all other high school kids."
Chris Dunshee, Principal
Red Lake High School
Red Lake, Minnesota, where a distraught 16 year-old American Indian student committed suicide after killing five of his peers and two adults. (2005)
Some "traditions" change.

Others do not.
Stereotypic "Indian head" icons like this one are among the most common and may be thought of as symbolic war trophies.


"With the hope of capitalizing on Osceola's growing fame, Weedon had the corpse of the famed war leader beheaded and laid claim to many of Osceola's personal possessions and clothes. Osceola's head passed through several hands until 1843, when it came to Dr. Valentine Mott, who put it on display and later donated it to the Medical College of New York. It disappeared following a fire in 1865." *

Donald L. Fixico
Seminole, Creek, Shawnee, Sac and Fox
Western Michigan University

* Despite this horrific history, FSU
continues to use a mascot called
"Chief Osceola."


College students perform the so-called, "tomahawk chop." This aggressive gesture, simulating the use of a weapon, originated at Florida State University and is now also seen at other public school and professional sports venues. Its purpose is to intimidate opponents and cheer on the fans' teams. The "tomahawk chop" is typically accompanied by a sing-song, Hollywood style "war chant."

* According to a published news account, over the course of the school's 154 year history only 3 members of the Seminole Tribe have graduated from FSU.

Other revealing insights include:

* About 75 percent of the Seminole live in Oklahoma.

* There are actually three Seminole tribes in Florida and only one tribal government - the one which uses the name "Seminole Tribe of Florida" - has formally signed on to the use of the mascot.

* The June 2005 resolution passed by the solitary Seminole Tribe of Florida regarding FSU's mascot was done so at the request of FSU President T.K. Wetherell.

* Prior to getting the June 2005 Seminole tribal endorsement Florida State announced, along with a number of other incentives, the establishment of scholarships covering 80% of tuition costs for "Seminole Scholars" recruited from reservations.

* The Florida State Legislature includes "'the Seminole Caucus' - an unofficial but influential group of about two dozen state lawmakers who are Florida State alumni or have ties to the school."

* "And then there's the university's impact in Tallahassee. Hundreds of Florida government officials are Florida State graduates and supporters. We deal with these people every day, working with them to clean up the Everglades, to improve the roads that lead to our reservations and to support the public schools that many of our children attend."
Jim Shore, general counsel of the Seminole Tribe of Florida, excerpt from remarks in NY Times op-ed piece 8/27/05

* "The NCAA position on the use of Native American mascots, names and imagery has not changed, and the NCAA remains committed to ensuring an atmosphere of respect and sensitivity for all who participate in and attend our championships." NCAA statement associated with withdrawing FSU from post-season championship ban.

This photograph from the movie "Schindler's List" shows actor Ben Kingsley in the role of Itzhak Stern as he walks on gravestones used by Nazis for paving. Tomb markers from Jewish graves were broken and used as paving stones at Gestapo headquarters. Some authorities report that Hitler was strongly influenced by the manner in which American Indians had been dealt with and viewed by the U.S. government.






UND Merchandise Item - "Fighting Sioux" Doormat

"Embedded in the granite floor inside the main entrance to Ralph Engelstad Arena, an enormous American Indian-head logo spreads like a welcome mat in front of the larger-than-life statue of Engelstad himself."

A major donor to the University of North Dakota (UND),
Engelstad was a collector of Nazi memorabilia

"... racial stereotypes are offensive, no matter what their origin....Images like these have no place in today's world."

White House spokesman Scott McClellan responding to Mexico's use of the Memin Pinguin character on a postage stamp (left), June 2005. At right is the "Chief Wahoo" icon used by the Cleveland, Ohio, major league baseball team.
American Indian Sports Team Mascots © 1998, 1999, 2000, 2001, 2003, 2004, 2005, 2006, 2007, 2008, 2009, 2010, 2011, 2012, 2013, 2014, 2015, 2016, 2017, 2018
All rights reserved.