Oneida Sponsored
30-Page Study Yields Scientific Evidence
Showing "Indian" mascots Harm Native Americans
06/04/14 - Survey Shows 67 Percent of Native Americans Say 'Redskins' Is Offensive Washington, D.C./National
The survey's findings from The Center for Indigenous Peoples Studies at California State University, San Bernardino
Oct. 2013 Washington, D.C. Poll Results
* 59% Agreed that if referred to as a "redsk*n" a Native American person has the right to feel offended.
* 55% Stated that as a fan it would not make any difference to them if the Washington NFL team changed its name.
* 58% Stated they would feel comfortable if the Washington NFL team changed its name.

---

In a 2001 survey by Indian Country Today, 81 percent of respondents indicated use of American Indian names, symbols and mascots are predominantly offensive and deeply disparaging to Native Americans.

"28 schools in 18 states were once the Redskins, but now currently use another mascot. Capital News Service fact‒checked data and found that the Washington Redskins had overstated the number of schools using the name."
Dear Dan Snyder, Bruce Allen, Roger Goodell, NFL, MLB, and all relevant others large and small:
So-called "good" intentions or "context" do not matter one bit when the final outcomes arising from the institutionalized, race-related practices you clearly endorse and promote have negative impacts on real, living American Indian people, especially children, adolescents and teens.
It is one thing to claim innocent ignorance concerning such things. It is quite another to continue the practices after having been told for years by many highly respected American Indian, civil rights, religious, and education organizations about the problems such actions, and by extension, you now personally cause. The damaging practices have therefore become willful on your part and no amount of denials, public relations gimmicks, cherry picking, high-priced lawyers or slick rationalizations can change that. Such tangible actions speak much louder than hollow, even if genuinely well-meaning words about "tradition" and "showing respect." How can you be "honoring" someone when they are telling you that what you're doing is hurtful to them?
The long overdue time has come to do the right and honorable thing. Stop stereotyping, dehumanizing, and exploiting American Indian peoples for your sports entertainment, self-inflation, and financial gain. Stop bringing shame on yourselves, your leagues, teams, schools, communities, and our nation. The embarrassment and humiliation you cause yourselves will only increase and get worse the longer you delay. Time is not your ally but rather something that works against you.
Get on the right side of history. Embrace progress. Promote justice and unity. American Indian peoples past and present are not mascots for big business or fun and games. Retire your outdated, harmful, race-related practices now!
>>> NEWS <<<
Belmont student activists to discuss 'Red Raiders' issue with school board Tuesday - See more at: http://www.newhampshire.com/article/20140524/NEWS04/140529423#sthash.srZcTBfH.dpuf
Belmont student activists to discuss 'Red Raiders' issue with school board Tuesday - See more at: http://www.newhampshire.com/article/20140524/NEWS04/140529423#sthash.srZcTBfH.dpuf
02/03/16 - At Brown University, Columbus Day Is Now Indigenous People's Day Rhode Island
02/02/16 - Dartmouth Greek Leadership Council explicitly bans display of Indian head imagery in Greek houses New Hampshire
01/29/16 - Loveland High continues Indian mascot discussions Colorado
01/29/15 - Hall, Conard T-Shirts With Native American Imagery Cause Stir Connecticut
01/27/16 - Tewksbury debates fate of Redmen mascot Massachusetts
01/27/16 - Amherst College Drops Mascot Criticized As Offensive Massachusetts
01/23/16 - Whitesboro drops 'racist' seal: Sign of the times for Native Americans? New York
01/22/16 - In Amesbury, Indian mascot gets second look Massachusetts
01/14/16 - Association urges dropping of teams' nicknames, mascots that portray Native American stereotypes South Dakota
01/05/15 - Goshen retires Redskins mascot, begins using RedHawks name Indiana
12/24/15 - Eaton teacher: Gov. Hickenlooper's Native American mascot commission brings stakeholders Colorado
12/18/15 - What's In A Name: Washington Redskins Controversy Washington, DC/National
12/11/15 - Sachem mascot to be studied Massachusetts
12/09/15 - Tewksbury Divided by Mascot Issue Massachusetts
12/07/15 - 90 Schools Have Reached Out To adidas For Mascot Assistance National
12/06/15 - Spaulding's Red Raider mascot faces scrutiny New Hampshire
12/06/15 - Another Oklahoma school asked to change teams' nickname Oklahoma
12/04/15 - Student club wants the 'Indian' removed New York
12/03/15 - A Native American Parent Confronts a Pervasive NFL Slur Maryland
11/28/15 - St. Paul schools consider ban on Washington Redskins gear Minnesota
11/28/15 - Native American nicknames are in the sports spotlight Pennsylvania/National
11/27/15 - Inuit group calls on CFL's Edmonton Eskimos to change name Alberta, Canada
11/22/15 - Labor Department throws football party, but bans Redskins jerseys Washington, DC
11/18/15 - Fighting Hawks picked as University of North Dakota nickname North Dakota
11/14/15 - Native Americans outmuscled by money in Redskins debate Washington, DC/National - article from Australian publication
11/09/15- Woonsocket ponders nickname change after resolution this week South Dakota
10/14/15 - Dartmouth Provost Calls Students 'Cowardly' For Anonymous Columbus Day Indian Flyers New Hampshire
The flyers featured products promoting a logo the school dropped four decades ago included a "jock strap" and drinking flask.
10/07/15 - Change the Mascot Praises Colorado Governor and Lawmakers for Action on Native Mascots Colorado/New York
10/06/15 - Colorado governor creates task force on American Indian mascots Colorado
Article includes full text of the governor's executive order
10/06/15 - Lawrence mayor declares Oct. 12 Indigenous Peoples' Day in place of Columbus Day Kansas
10/05/15 - Oneida Indian Nation blasts Donald Trump for defending Washington Redskins New York/Washington, D.C./National
10/05/15 - Change the Mascot Campaign Responds to Donald Trump's Support of Washington Team Name Washington, D.C./National
10/05/15 - Donald Trump: Redskins a 'positive' name, Washington shouldn't change Washington, D.C./National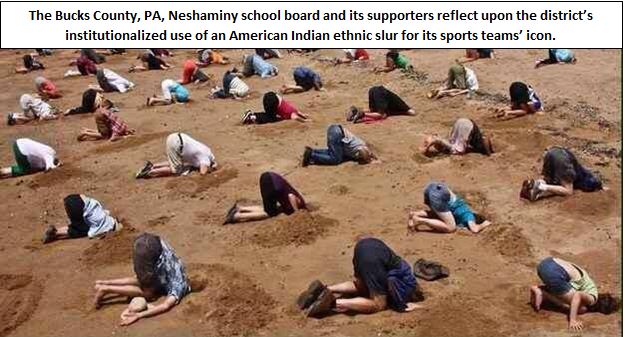 | | |
| --- | --- |
| | |
| Cleveland, Ohio April 4, 2014 | Nationally syndicated cartoon 2002 |